While you're out exploring museums, art galleries, and shops, save time to enjoy our acclaimed local cuisine. Fine dining here is an experience in itself! There are so many excellent Midtown Atlanta restaurants, and many of them are within walking distance of Stonehurst Place. Discover some of the top spots to eat in the city so you'll be ready when hunger strikes! Just don't forget to explore our free Travel Guide for more tips on where to eat and what to do during your stay. It's a one-stop shop for planning the perfect getaway.
Indulge at Our Favorite Restaurants in Midtown Atlanta
1. The Lawrence
For classic American fare in a casual environment, try The Lawrence where Owner Barb always orders their signature cocktail called The Lady Lawrence! They have excellent options for brunch, lunch, and dinner in Midtown Atlanta. Grab a table inside with modern decor or outside on the patio. It's the perfect spot for date night! Don't worry about parking because the restaurant is just a short one-block walk from Stonehurst Place.
Menus change seasonally; current entrées include seared Gulf shrimp, Maine diver scallops, and Hudson Valley duck breast. Try pairing your food with one of their specialty cocktails, like the Lady Lawrence or Stormy Weather. If you're at The Lawrence for brunch, enjoy a refreshing mimosa with your meal.
2. Campagnolo
It's a treat having Campagnolo a short walk away from our inn. You can be there in minutes to enjoy their lively outdoor patio and seasonal specialties. The casual atmosphere makes it perfect for catching up with friends while you dine on delicious Italian fare.
The selection at Campagnolo often changes to incorporate the freshest, in-season ingredients. Even if your favorite meal isn't on the menu when you visit, you're sure to discover a new one! They have everything you expect from a top-notch Italian restaurant, including a decadent tiramisu for dessert.
3. South City Kitchen
Chef John Spotkill works to bring contemporary Southern cuisine to South City Kitchen in Midtown Atlanta, and he succeeds. Spotkill, originally from Boston, inherited his passion and skill for cooking from his mother and grandmother. Their family tradition of crafting exceptional food lives on with each bite you take.
Try some of Owner Barb's favorites (she's been going to South City Kitchen for twenty-five years!) Shrimp and grits, jumbo lump crab cakes or fried chicken are just a few. South City Kitchen also serves excellent lunch and dinner options like roasted oysters, grilled quail, and New Orleans barbecue shrimp. Still hungry? Top it off with chocolate-caramel angel pie for dessert!
4. Superica
You can't say you've tasted the best carnitas tacos in the world until you eat at Superica! It's about 15 minutes from our inn and serves superb Mexican food. Plus, they host Live Music Thursdays in the summer which is a great way to get involved in Atlanta's famous nightlife.
Stop by for top-notch brunch or dinner in this Western-themed Mexican restaurant (and Owner Barb's favorite Mexican in Atlanta!) Get started with an order of guacamole with homemade, puffed tortilla chips. For dinner, options range from fajitas and enchiladas to specialty Tex-Mex entrees like tacos de carnitas and chili relleno. Pair your meal with one of their skinny margaritas!
5. Lure
Atlanta may be an urban city, but you can still find fresh seafood in a coastal atmosphere at Lure! Grab a seat in this bungalow-themed oasis for brunch, dinner, or drinks at the bar including Prosecco on tap! The beautiful outdoor patio provides the perfect environment for an evening in Midtown.
Peruse the menu to find options like shrimp and crab gumbo, Georges Bank sea scallops, and seared salmon. They even have raw options like yellowfin tuna and wagyu carpaccio. Stop by between 4:00 and 6:00 p.m. for discounted happy hour specials.
6. Kevin Rathbun Steak
If you're searching for a steakhouse, look no further than Kevin Rathbun Steak. Travel + Leisure included it as one of the top steakhouses in the country in 2017! This local restaurant features chic decor with a modern feel and some of the best steaks you'll have the pleasure of eating.
Of course, you don't always have to order the steak here. The menu includes a fantastic selection of seafood, too. Try ahi tuna poke, Maine lobster tail, oysters on the half shell, and much more. Feel free to enhance your dish with over a dozen mouthwatering sides.
Directions | Menu
7. Rathbun's
Expect another remarkable dining experience at Rathbun's nearby. It was the first restaurant that Kevin Rathbun opened, and it got his restaurant management career off to a great start.
Kevin Rathbun has kept a close eye on what his guests prefer over the years, and the result is a menu that's full of popular options. Open it up to discover flash-fried calamari with sweet chipotle aioli, pork tenderloin with tomato butter, elk chop, and more.
8. Cape Dutch
Cape Dutch opened its doors in 2015, and it quickly stole the hearts and delighted the taste buds of local foodies — including us! Step inside to discover a sophisticated atmosphere with inspiration from the South African wine country.
The menu at Cape Dutch features South African-style dishes with a bit of European influence and cooking techniques. Executive Chef Philippe Haddad works his magic on the braai, a wood-fired grill, to serve unique dishes like branzino, hanger steak peri peri, and the braai burger.
9. Holeman & Finch
For classic favorites in a casual environment, head over to Holeman & Finch Public House. Here, you can enjoy a fantastic dining experience without any fluff. They focus on crafting popular recipes with fresh ingredients while cultivating a friendly, approachable atmosphere.
Stop in at Holeman & Finch to enjoy farm-fresh options like roasted half chicken and a Georgia-grown vegetable plate. If you're looking for something smaller to nibble on, consider ordering the deviled eggs or bacon-caramel popcorn. Don't forget to check out their Tuesday Night Wine Club, too.
10. Restaurant Eugene
Another can't-miss restaurant in the Midtown Atlanta area is Restaurant Eugene. Although Chef Linton Hopkins has culinary experience across the country, he grew up right here in Atlanta. Today, he lives only a short walk away from his top-rated restaurant. Talk about a dream come true!
As you browse the menu, you'll find the names of several farmers and vendors adjacent to the fresh ingredients they provide. They take no shortcuts in preparing each dish, making almost all of the items from scratch, including their sauces. You can thank co-owner and sommelier, Gina Hopkins, for the enticing wine list!
Directions | Menu
11. Bacchanalia
Whether you're celebrating a special occasion or want to enjoy a one-of-a-kind dining experience, make reservations at Bacchanalia where Owner Barb has been celebrating special occasions since their opening in 1993! Receiving consistent acclaim for their contemporary American cuisine, this restaurant uses fresh, organic ingredients on the seasonal menu. Plus, the culinary team crafts creative, innovative, and gorgeous food. Of course, it's also delicious!
The menu varies, but you can rest assured it's filled with excellent options. Dinner consists of a prix-fixe meal available with wine pairings. Available selections include Maine lobster, artichoke raviolini, and cheese plates. Afterward, indulge in decadent desserts like peach souffle and baba au rhum.
12. Cooks & Soldiers
If you're a fan of tapas-style portions, we highly recommend checking out Cooks & Soldiers nearby. Southern Living readers voted it as one of the South's best restaurants in 2017, and it continues to delight Stonehurst Place guests today.
When you dine at Cooks & Soldiers, you immerse yourself in the traditional cuisine of the Basque Country. You're welcome to order Pintxos, which are similar to tapas and are typically served on bread. Or, you can have larger, shareable dishes from the Asador, a wood-fired grill. Either way, you're in for a treat!
13. Atmosphere
Walk through the doors of Atmosphere Restaurant and take a journey overseas to a charming French bistro. It's been named Atlanta's best French restaurant, and it's no surprise why. Their quaint cottage setting is simply the introduction to a menu full of delicious cuisine, and it's one of the few quiet restaurants you'll find in Atlanta.
Atmosphere is open on select days for brunch, lunch, and dinner with great weekly specials. Their dinner menu is sure to get your appetite going with options like signature escargots baked in garlic butter, duck confit, and truite amandine. Save room for dessert and try their crème brûlée!
14. BoccaLupo
BoccaLupo is just a few minutes away from Midtown in nearby Inman Park, and their hand-made pasta dishes make it well worth the trip. Stop in when you get a chance to try their homestyle, Italian-American cooking in a casual dining atmosphere.
The rotating selection at BoccaLupo goes hand-in-hand with the seasons, bringing only the freshest ingredients to your taste buds. No matter what's on the menu, one thing is for sure. It will be delicious!
15. Fellini's Pizza
When you get a craving for pizza, Fellini's is the place to go. (Owner Barb has been going since her college days, starting in 1983. Try her favorite slice with sausage, mushrooms, onions, and extra cheese!) They are open Monday through Saturday from 11:00 a.m. to 2:00 a.m. and Sundays from noon until midnight. One of their many locations is a short drive from Stonehurst Place.
If you like a crispy crust, you'll love it here. Have your slice customized precisely the way you want it by selecting a fresh piece with whatever added toppings you prefer, and feel free to try their white pizzas and calzone options as well.
Enjoy a Gourmet Getaway at Stonehurst Place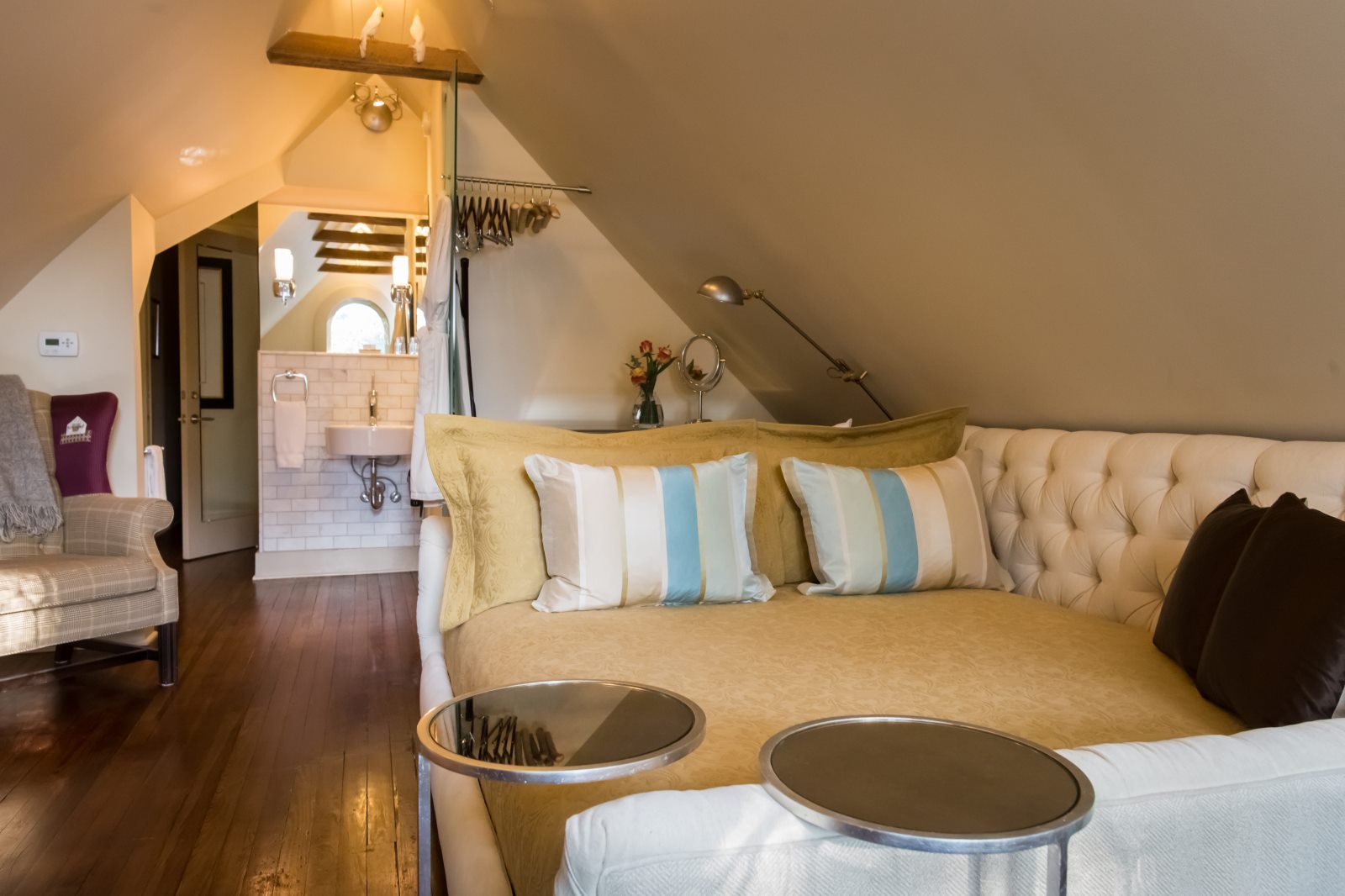 Stay at Stonehurst Place in Midtown Atlanta and take advantage of our Gourmet Getaway package! This tasty add-on includes in-room refreshments upon arrival, a gift card to local restaurants, and Godiva chocolates with our turndown service. You can use the card at some of the best restaurants in the area, including Lure and South City Kitchen!
Consider The Eaves room for when it's time to unwind during your visit. It features a luxurious daybed, beautiful windows with a view of the city, and marble floors and a heated towel rack in the bathroom. We even cook our very own gourmet breakfasts to round out your fine dining adventures.
Check our availability and make the most of your trip to Midtown Atlanta!